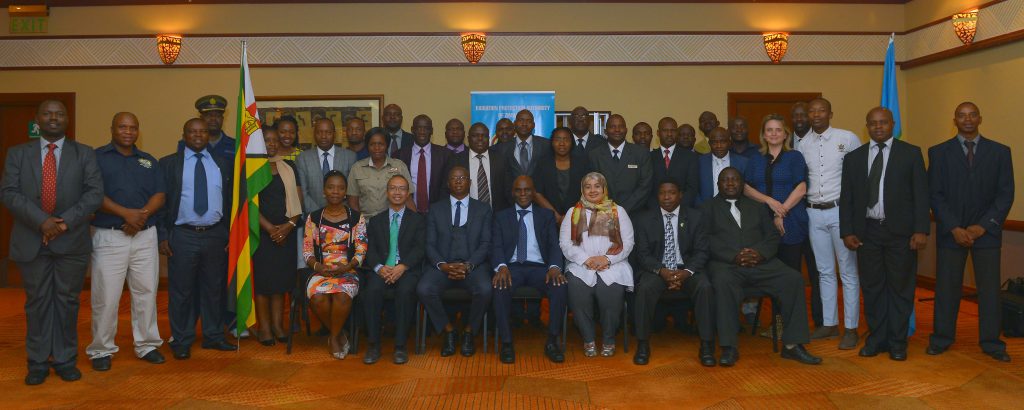 Victoria Falls: A 5-day national workshop to update the Concepts of Operations and Standard Operating Procedures for nuclear security detection was conducted at the Elephant Hills Hotel in Victoria Falls from the 10th to the 14th of October 2016. The workshop which is part of phase one of the implementation of the national project on strengthening the nuclear security detection architecture in Zimbabwe, was organised by the Radiation Protection Authority of Zimbabwe on behalf of the Government of Zimbabwe in collaboration with the International Atomic Energy Agency (IAEA). This project which is in three phases will result in all 13 points of entry and exits (border points) and 4 international airports being equipped with nuclear security detection equipment.
Nuclear security detection capabilities are essential towards ensuring the safety and security of people and the environment against the risks associated with nuclear and other radioactive materials out of regulatory control. Illicit trafficking of nuclear and other radioactive materials besides posing a security threat to the country, the region and the world at large also compromises the safety and health of front-line officers in particular the customs officials who will be handling these materials unknowingly.
Workshop participants were drawn from the National Nuclear Security stakeholders; Office of the President and Cabinet, Ministry of Defence, Ministry of Foreign Affairs, Ministry of Justice, Radiation Protection Authority of Zimbabwe, Zimbabwe Republic Police, Zimbabwe Revenue Authority, Civil Aviation Authority of Zimbabwe, Department of Forensics, Department of Civil Protection among others.
The delegation from the IAEA was led by Ms Noor Fitriah Bakri, Nuclear Security Officer responsible for Zimbabwe' nuclear seurity detection project and Ms Danielle Dahlstrom, Nuclear Security Outreach Officer, and Dr Mirza Bin Mohamed from the Royal Malaysian Customs Authority.
The workshop was officially opened by the Chairman of the National Nuclear Security Committee, Mr Justin Hugh Mupamhanga who is the Deputy Chief Secretary to the President and Cabinet. Mr Mupamhanga remarked that, "Zimbabwe by virtue of its geographical position within the region enjoys a lot of transit shipment, this detection infrastructure ensures that we eliminate illicit trafficking of nuclear materials and other radioactive sources outside regulatory control." He expressed the Government of Zimbabwe's desire to be the centre of excellence in Africa in the area of nuclear security to further contribute to improved nuclear security in the region.
Photo Credits: courtesy of IAEA Photographer, Mr Dean Calma