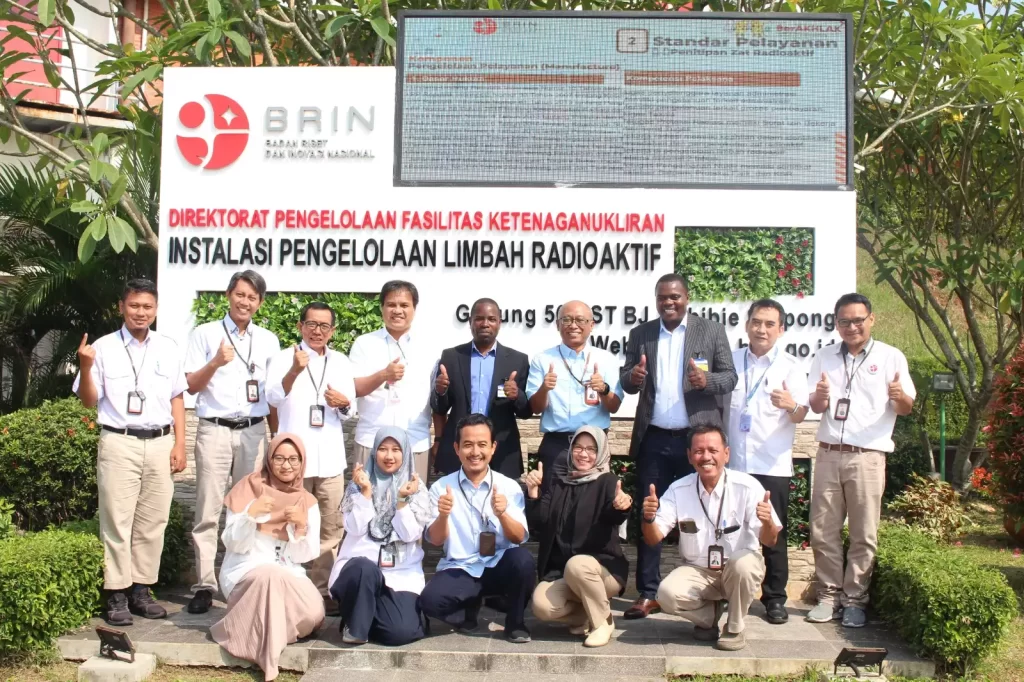 South Tangerang – PR BRIN. The Zimbabwean government learned radioactive waste management from the National Research and Innovation Agency (BRIN). Currently, the Government of Zimbabwe is funding the construction of a centralized radioactive waste management facility to address safety and security issues arising from inadequate radioactive waste storage.
The facility is designed to handle both low and high-activity sources, its physical structure is expected to be completed in 2024 and will be operational in December 2024. "While there are no nuclear installations in Zimbabwe and it does not produce its own radioactive sources, its uses for radiation range from industrial applications to process automation. , mining, agriculture, manufacturing, the construction industry, medicine, research and security, all under the supervision of RPAZ," said Innocent Maydia Director of Regulation Services of the Radiation Protection Authority of Zimbabwe (RPAZ) when visiting the BRIN nuclear facility in the B.J. Science and Technology Area. Habibie, Serpong, Monday (14/08).
The RPAZ visit this time is within the framework of a Scientific Visit, this activity focuses on studying permits for radioactive waste management facilities, especially their application to facilities that are being built, as well as studying the safety and security of the infrastructure. Scientific Visit is an activity of member countries of the International Atomic Energy Agency (IAEA) visiting other IAEA member countries to obtain information, knowledge and experience in nuclear matters.
"Our visit is part of a collaborative program between the IAEA, Zimbabwe and Indonesia in terms of developing radioactive waste management. Currently, we are in the process of finalizing a radioactive waste management facility," explained the Head of Technical Services of RPAZ, Amos Muzongomerwa revealing the reason for his visit to Indonesia.
He also added that this visit is expected to be a lesson and share experiences regarding radioactive waste management in Indonesia that can be applied in his country.
RPAZ is the sole regulator for nuclear and radioactive sources established in 2004. Its task is to protect humans and the environment from the harmful effects of radiation, provide an adequate legislative framework and enable the safe and secure use of nuclear materials and radiation sources, provide protection to radiation workers in accordance with international standards, ensuring optimal patient protection from radiation exposure in the medical field, as well as supervising the export and import of radioactive sources.
During this visit, the delegation from Zimbabwe will study the process and flow of nuclear waste processing in Indonesia which can later be applied in their country.
Head of Research Center for Nuclear Fuel and Radioactive Waste Cycle Technology (PRTDBBNLR) BRIN, Syaiful Bakhri said that this is the second time this IAEA Scientific Visit has been conducted, where the previous year the representatives from Cambodia came. "We hope that the knowledge and experience that we have can be useful in the development of radioactive waste management that is being built there and is very open and we hope for input for the facilities we have, in an effort to improve waste management facilities here for the better," he hoped.
Nuclear Technology Developer Main Expert at the Directorate of Nuclear Facility Management (DPFK) BRIN, Suryantoro explained that the radioactive waste processing process in Indonesia is divided into 4 types of methods. The first is the specific activity decay for radionuclides with very short half-lives, the second is composition changes are carried out by combustion, flocculation, coagulation, and ion exchange processes, the third, volume reduction is carried out by evaporation, compaction, combustion, and ion exchange processes, and the fourth is conditioning, namely by the process addition of cement and capsulation.
"The policy of the Indonesian government is to return DSRS to their country of origin if possible, but if such repatriation is not possible for several reasons, the DSRS will be transferred and managed by the Radioactive Waste Management Installation (IPLR)-DPFK BRIN. If the DSRS cannot be reused and/or recycled repeatedly, the IPLR-DPFK BRIN must process it using the activity decay and conditioning method," explained Suryantoro.
"We also have a Nuclear Energy Supervisory Agency (BAPETEN) which takes care of licensing and supervision in the nuclear field, the Radioactive Waste Management Facility in Indonesia is centralized,"